Birmingham City University chooses Horizon
2nd April 2019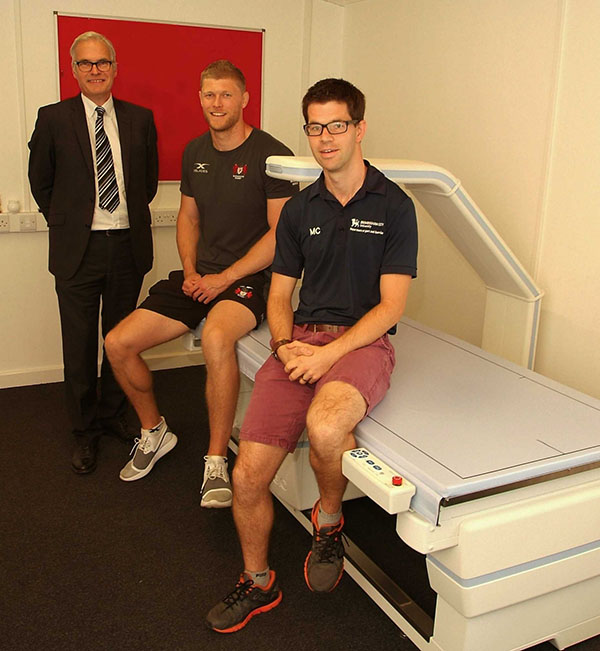 Pictured following the recent handover of a Hologic Horizon W DXA scanner supplied by Vertec Scientific to Birmingham City University for a joint project between Gloucester Rugby Club and the University are (from left): Vertec Product Specialist Bill Reid with Performance Nutritionist, Gloucester Rugby Club James Hudson (who once played for Gloucester Rugby) and Birmingham City University Programme Leader, Sport and Exercise Nutrition Matt Cole PhD.
The partnership between Birmingham City University and Gloucester Rugby involves a collaborative research project to investigate changes in body composition throughout a competitive season in elite professional rugby players. Gloucester Rugby competes in the English Premiership, the Anglo-Welsh Cup and the European Professional Club Rugby competitions.
According to Matt, "It is widely accepted that a rugby player's body composition can have a significant impact on their ability to train and perform at the highest level. In recent years several research groups have published body composition data of elite athletes including Kenyan marathon runners, Rugby League players, football players and jockeys, but there is lack of understanding within elite rugby union populations. Furthermore, many of these studies simply report body composition at just one specific time point and so it is of interest to understand how body composition is influenced by the varied demands of a full competitive season of rugby training and matches."
The Horizon W is optimised for body composition studies but has the added benefit of visualising Atypical Femur Fracture (AFF) and assessing it, Abdominal Aortic Calcification (AAC) and Advanced Body Composition Assessment with the InnerCore feature for visceral fat assessment. These clinical assets make Horizon the only multi-faceted DXA system which can deliver assessments for fractures risk, fractures (femoral and vertebral), obesity, visceral fat, cardiovascular risk and other metabolic disease states - possible future applications in sports medicine - in a single system.