Veincentre uses Terason uSmart3300
4th April 2019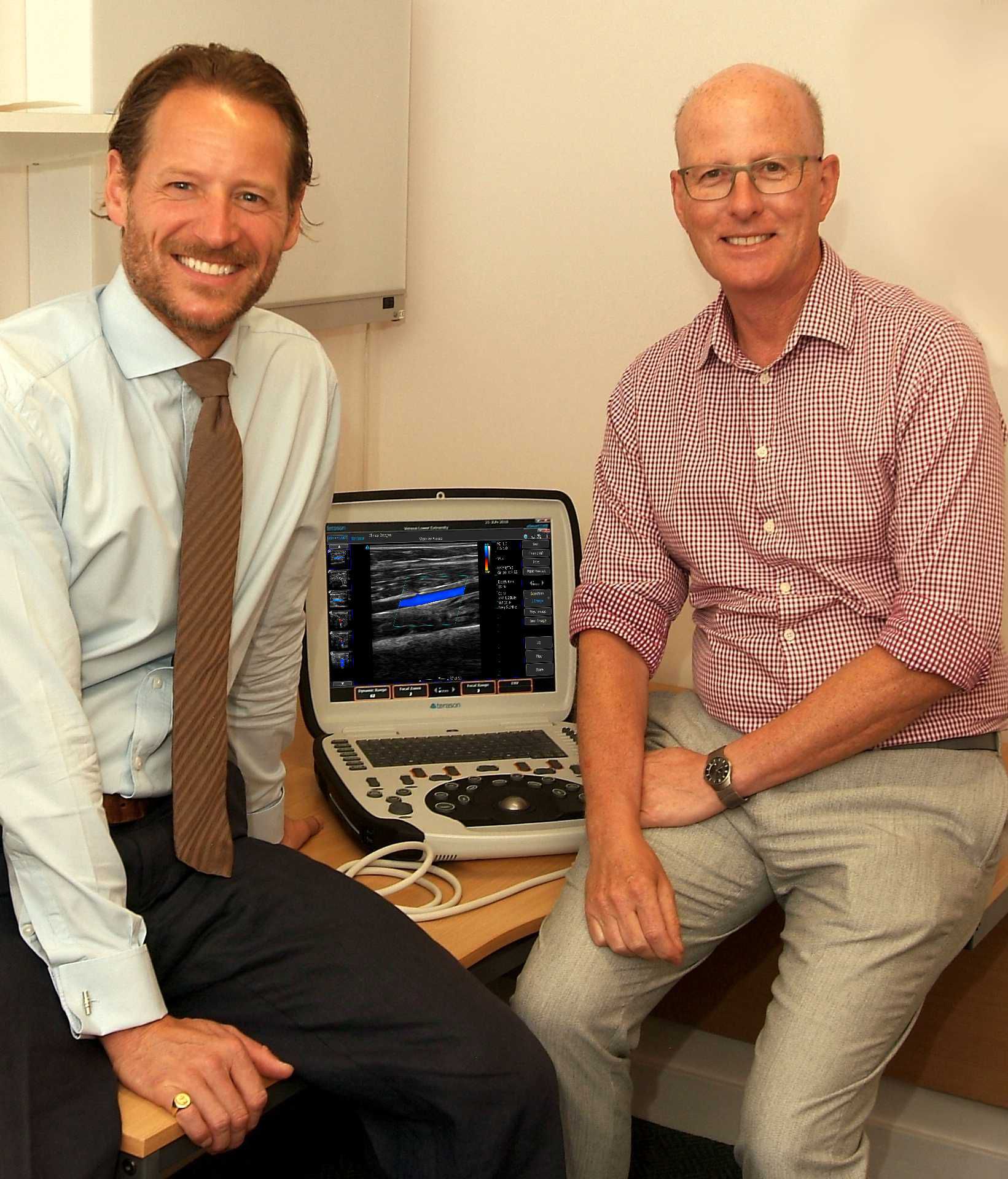 Veincentre provides Endovenous Laser Ablation (EVLA) varicose vein treatment. It was one of the UK's very first providers of Endovenous Laser Therapy (EVLT) for varicose veins. Since then it has been at the forefront of developments in the field of minimally invasive varicose vein treatment. Veincentre's Consultant Vascular Specialists have performed over 20,000 successful treatments for varicose veins including EVLA, EVLT, TRLOP, Perforator Ablation, ClariVein, Embolisation, Foam Sclerotherapy, Stenting, RF Ablation (VNUS Closure), Microsclerotherapy and Veinwave for thread veins.
Pictured at a recent training session centred on a software upgrade to Veincentre's Terason 3300 ultrasound system supplied by Vertec Scientific are Vertec product specialist Gavin Adcock (on left) and Consultant Endovascular surgeon Mr Nicholas Hickey. Mr Hickey was appointed Consultant Vascular Surgeon in Worcester in 1994 and continues to be part of the team that provides a vascular service to the people of Worcestershire and Herefordshire. He works at Veincentre in a private capacity.
The Terason uSmart 3300 has a wide range of features including: 2D Digital Imaging, Anatomical M-Mode, Doppler application for colour, Pulsed Wave, Directional Power, CW and Tissue, plus Dynamic Depth Resolution, exclusive Enhanced Needle Visualization, 2D Electronic Beam Steering, Auto-Optimisation, Smart Resolution Imaging and full USB, Wireless and Ethernet connection.
On the choice of Terason at Veincentre Mr Hickey comments, "We have been using portable ultrasound for some time, but found that imaging in patients with a high BMI could give ambiguous results. We chose the Terason 3300 as it's imaging at all depths is very good."